Kids Holiday Art Workshop 22 – 26 June 2020
23 – 27 March 2020
5 Days of fun for only R 1200  | 9:00 – 12:15
This holiday workshop focusses on a different artist each day. We explore the artist's techniques and life story, the kids then proceed to work on their project based on the specific artist. The kids are exposed to various mediums of art so that they can explore and find what they are drawn to most. Please view the program below for day-to-day activities. 
Session 1: 9-10:00 / 10 min Break 
Session 2: 10:10 – 11:10 / 15 min Break   
Session 3: 11:10 – 12:15 / Pick Up 
Where?
82 Kessel Street, Fairland, Gauteng
How Much?
R 1300 for entire workshop
Medium
Acrylics, Drawing, Charcoal, Clay, Scraper Board, Print Making
Included
All Art Materials
Excluded
Snacks. Please send snacks and lunch with your kiddies for break times.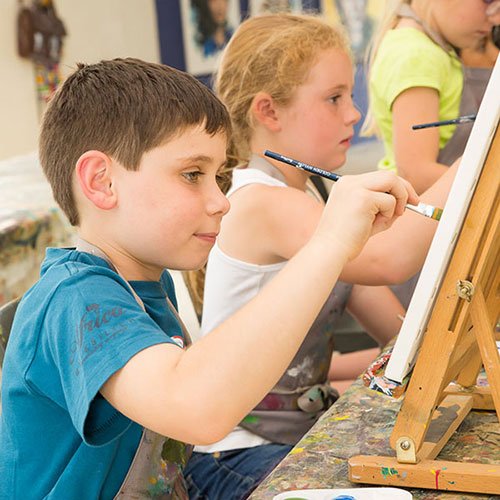 Day 5
Oil Pastels
Painting Clay Statues
Exhibition
Last day of the workshop  18:00 – 19:30 pm. All parents and family members welcome
Frequently Asked Questions
How do I sign up my child?
Make payment to reserve their spot.
Drop them off on the first day
From which age do you teach
This workshop is ideal for ages 6 – 13.
What is the structure of the classes
We only have 33 spots available for per kids art workshop.  Kids are divided into 3 teams according to age. Each team receives the same activity and medium for the day, however, the difficulty level of that medium ranges per team.
Am I allowed to sit in on classes
We regret that we do not allow parents to sit in on classes. We have found this distracting to the students. Parents also tend to correct their children during the creative process, the studio needs to be a safe space for them to create. If your child is fragile, you can sit with them for 5-10 mins just to get them to relax, but after that, we kindly request that you slip out of the class and allow them to progress on their own.
When can we view the creative works
The last evening we will have an exhibition for all parents and family members. Only after the exhibition ends may the children collect their respective artworks.
How many teachers do you have 
For a fully booked Holiday Workshop, we have 4 art teachers and an assistant on duty each day.
e can i drop my child(ren) off?
You can start dropping kids at 8:00 am at the earliest. Classes will start promptly at 9:00, so please don't be late.
Refunds
Please read our Refund Policy here.