Introduction to Guernica by Pablo Picasso!
This monumental artwork (yes it is huge! Measuring 7.77 metres wide and 3.49 metres tall). It is one of Picasso's most celebrated artworks. But why? It captures the Zeitgeist of the Spanish Civil war. Guernica shows the tragedies of war and the suffering it inflicts upon individuals, particularly innocent civilians.
What was Guernica?
Guernica was a town bombed in 1937 when most men were on the front line fighting. This meant that mostly women and children were bombed to death by six German bombing planes.
The devastating Civil war gripped Picasso and he wanted the world to exert pressure on Spain to stop the war. The massive monochromatic artwork was the result. It shows animals, women and children being slaughtered by a senseless war.
Like most paintings on this list this painting also captured a dual Zeitgeist. When it was created it cast light on the political tensions in Spain between communists and republicans.
Guernica was a actually a commissioned painting!
A painting was commissioned by the Spanish Republican government. At the time of the bombing of Guernica Picasso was working on a mural for the Paris Exhibition to be held in the summer of 1937 but deserted his original idea and began on Guernica.
At Guernica's unveiling at the Paris Exhibition that summer, it didn't gain much attention. It would later attain its fame as a symbol of the destruction of war on innocent lives.
To safe guard the painting during World War Two the painting moved to MoMA (The Museum of Modern Art) in New York. In Picasso's will he stated the painting may only be returned to Spain once they are a free republic again.
USA vs Spain
After Picasso's death this caused a massive fight between the USA and Spain. MoMA was reluctant to give up one of its most prized possessions. After the artist's death Spanish negotiators were finally able to bring the mural home.
In 1974 Guernica was on display at New York's Metropolitan Museum of Art where antiwar activist and artist Tony Shafrazi defaced the mural with red spray paint as a protest statement. Guernica was immediately cleaned by curators and Shafrazi was charged with criminal mischief and sent to jail.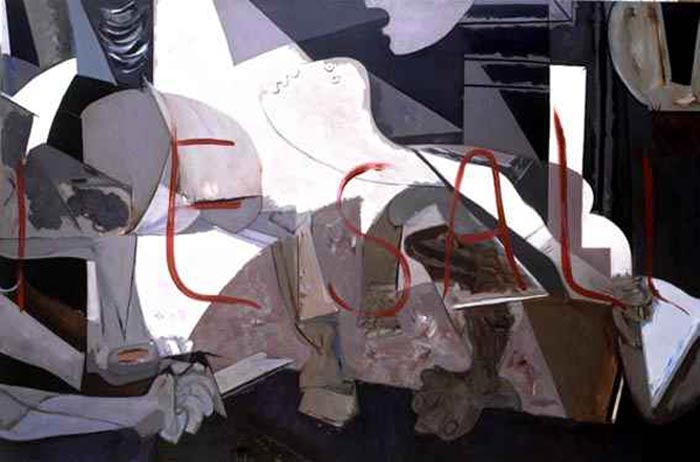 Have a look at the other famous artworks in this series, the Mona Lisa, The Last Supper, Starry Night, Scream and my next one The Kiss.