George Pemba is an inspiring artist who defeated the stereotype that black people could not become professional painters during the Apartheid regime in South Africa. Pemba is often referred to as the Grand-master of South African Art and is internationally recognized as one of South Africa's greatest artists. His paintings depict the conditions of people living in townships. The artist painting career spanned over six decades and provides a remarkable visual history of what he witnessed throughout South Africa's transformation.
"My objective is to interpret the feeling of my people" – George Pemba
What were the key events in George Pemba's life
He was exposed to very limited fragmented art training throughout his life. This was due to all the restrictions Apartheid implemented on black education. However, what ever opportunity presented itself, Pemba grabbed it with both hands.
Keeping this in mind it is remarkable to see the amazing standard of his oeuvre. He was not only a prolific artist but also highly skilled. His works can easily be compared to International Art Movements and Artists of the time.
Pioneer of Social Realism
In his art, we can see the influences of German Expressionism, Realism and Impressionism.
Realism – Depicted society with warts and all.
Impressionism – Captured fleeting moments of daily life.
Expressionism – because often the emotion or the narrative is more important than depicting everything in minor details, he also sometimes distorts figures to aid the communication of emotion. He loved movies and many of his works show a film quality, they look like still scenes from a film.
Today he is seen as a pioneer of Social Realism.
Pemba's Life & Education
Little George Pemba was born in 1912, just outside PE in a town called Koster village. From the get-go Pemba just had an affinity for art he simply loved it. He had a really cool dad that encouraged him to paint and draw, and he even allowed him to draw on the walls. He said to him "Pemba, please paint some beautiful murals in our home. His dad was super proud about his talent, so he started telling everybody about how good Pemba was. One day his dad came home with photos of his boss and said "Pemba, my boss would like you to paint him" and so Pemba started painting portraits and it was quite successful.
Death of his father
Pemba was so talented that in 1924 he won a Gray scholarship which would enable him to receive a post-primary education. This is amazing for during the Apartheid era. Unfortunately, something super, super sad happened, at the age of fourteen Pemba's father passed away. Despite this hardship Pemba decided to still follow his dream to become an artist.
At the mere age of 16, Pemba was part of his first exhibition, it was held at the Feather Market Hall in Port Elizabeth in 1928.
How did Pemba meet professor Ethel Smythe?
In 1934 his appendix burst and Pemba was taken to hospital. He had to stay in hospital for quite a while, and while he was there his art kept him busy. He started drawing and painting all the doctors and nurses. They were so impressed with Pemba's skills that they told the professor Ethel Smythe at Fort Hare about Pemba. Being a professor, Ethel had lots of books and he introduced Pemba to Rembrandt van Rijn, Impressionism and German Expressionism. He gave Pemba some direction in drawing and taught him how to use watercolours.
George Pemba's tertiary education
After school Pemba decided to become a teacher and he studied a diploma and teaching at the Lovedale Training College. Because it was really difficult to earn a living during Apartheid for black people, he also had to find another job so he started working at the Lovedale printing press. They realised he was quite talented and said to him "Pemba, don't you want to start painting and doing all the illustrations for our books. Pemba was a teacher for seven years, but unfortunately with a Bantu Education Act black teachers really didn't earn a lot of money so he had to take a new job as an administrator for the government.
Rhodes University
In 1941 Pemba won a scholarship to go to Rhodes University, but it was a rather silly scholarship if you ask me, it was only for five months. You have to realise normally you go to university for at least four years to get a degree but Pemba decided to use these five months to the best of his ability, and learn as much as he possibly could.
Just outside the university there was art courses run by this old man called Maurice van Essche, now back then it wasn't allowed for black people and white people to be in the same art class – but Maurice allowed it. Maurice taught various students how to draw and paint, it was at these art lessons Pemba's life changed dramatically, he met the amazing Gerard Sekoto.
What was Sekoto's influence on Pemba?
Gerard Sekoto was a really great South African artist. He encouraged Pemba to be a full-time artist and he said to him "you know what George, you really need to stop with watercolours, I think it's time that you move on to oil painting". You see, oil painting was much more robust and could be preserved forever, where watercolours were finicky and difficult to keep clean and frame. He also gave Pemba some great advice about his art, he said "you need to pay more attention to your immediate surroundings as subject matter. Pemba took all of this advice to heart he, switched to oils and decided to be a full-time artist.
He jumped into taxis and travelled to Johannesburg, Durban, KwaZulu-Natal, Umtata, Basutoland, and painted portraits of the indigenous people he met in the different regions. You have to realise that being an artist in Apartheid South Africa was no joke but being a black artist in Apartheid South Africa was way, way, way, harder.
How did Pemba survive?
Pemba had to earn extra income so he started a spaza shop at his house with his wife Gabby. Guess what happened next, in 1937, Pemba received first prize in the May Esther Bedford Competition where his previous mentor Gerard Sekoto received second prize. I think this is amazing, as artists we have to encourage each other, and as an art teacher I believe my students should one day be better than what I am!
In 1959 Pemba also started making satirical cartoons. The first one was published in the ANC's newspaper Isizwe released in June 1959. Pemba was also a writer, who wrote and staged at least two plays – The Story of Nongqawuse and The Xhosa Prophet Ntsikana. He later produced paintings to illustrate the plays.
What was Township life during Apartheid?
With all his hard work Pemba was given an honorary master's degree in arts by the University of Fort Hare.
Although Pemba is not seen as a protest artist today, his art career was affected by the struggle. But his biggest contribution was that he made people see what life was like for black people under Apartheid rule in the townships. His representation of township life has been described as unpretentious and honest – displaying an understanding of humanity. Today he is a respected watercolour and oil artist.
Recognition for George Pemba
Now let's look at some recognition Pemba has received for an art career that spanned over almost six decades. You have to remember that the majority of this career was spent during the Apartheid rule. Pemba could only really become a successful artist and gain recognition once Apartheid started falling and Mandela was free.
The esteemed Everard Read Gallery held an exhibition of Pemba's artworks to honour him for his 80th birthday. A book about Pemba's life and art was released named Against All Odds.
Unfortunately Pemba passed away in 2001 and couldn't enjoy other recognitions he received. Posthumously the South African government awarded him The Order of Ikhamanga. A documentary was made of the artist's life and for his hundredth anniversary the South African post office released a set of ten commemorative stamps featuring some of Pemba's best-known artwork.
Pemba's artworks
Now we need to look at the characteristics of Pemba's artworks. We need to ask ourselves: what did he paint; where did he paint; how did he paint; and why.
Pemba is known for painting portraits of individuals or people in groups, landscapes, references to religious topics, and commentary on political and social circumstances.
Although Pemba travelled to various regions to depict people from all over South Africa, he concentrated on depicting the life in the township New Brighton where he spent most of his life.
Initially Pemba painted in watercolours which was a relatively cheap medium. In his watercolour works the colour use is soft and seductive, but when he began painting with oil his style changed. In both his watercolour and oil paintings he shows a strong feeling for form, he creates forms which are solid by using simplified planes. He loves using contrasting light. This brings me to Pemba's use of colour; sometimes he plays with contrasting colours such as the complementary blue and orange, red and green, yellow and purple. His use of colour is bold and sometimes he uses impasto brushstrokes.
What was the purpose of his artworks?
What was the purpose of Pemba's artwork – to draw attention to the daily lives of black people in Apartheid South Africa. He depicts the uncertainties and the contradictions that were part of life in South Africa at the time. His work includes themes such as joy, fear, loss, the experience of a daily life, cultural traditions, Human Rights, politics and religious commentary. His work is inclusive of the Human Condition through representing his personal experiences.
Famous artworks
New Brighton Port Elizabeth 1977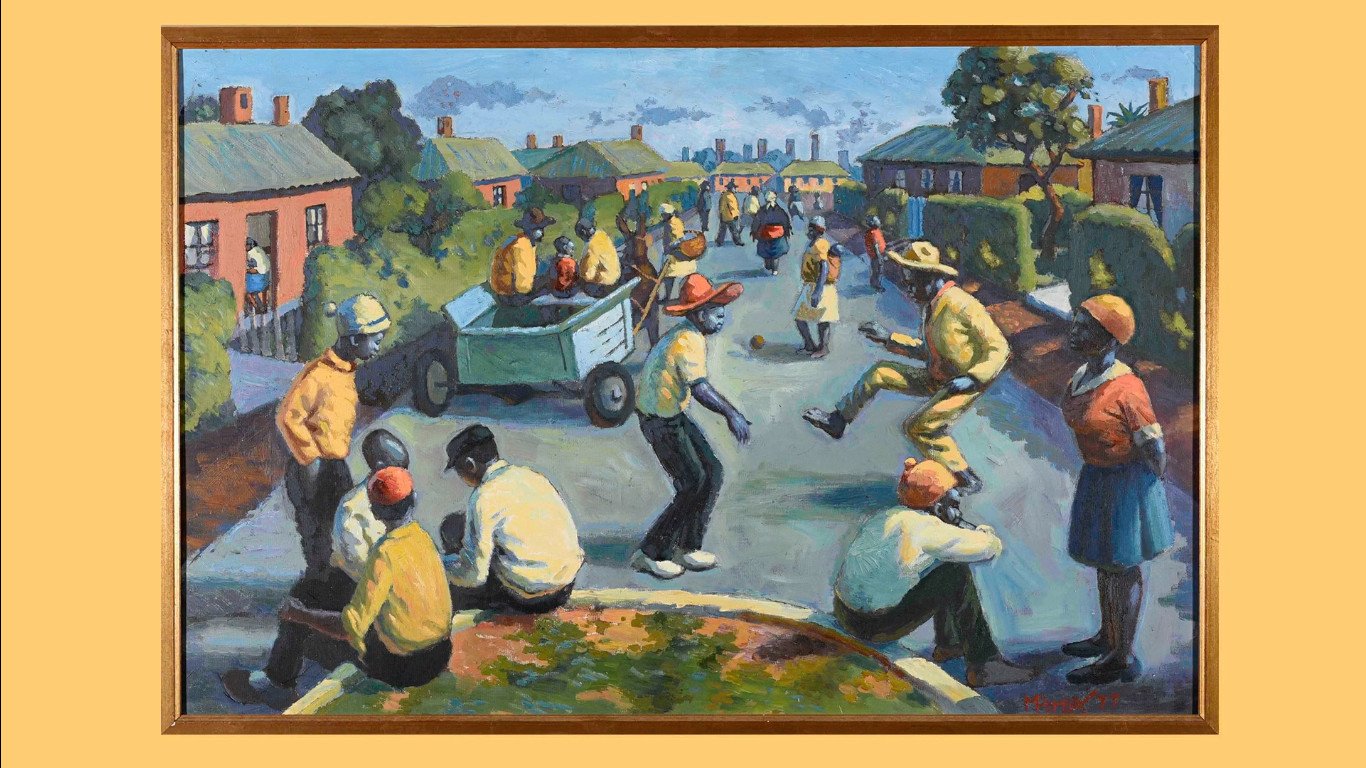 Let's discuss two of Pemba's famous artworks. I would like to begin with this one New Brighton Port Elizabeth 1977 oil-on-canvas. By looking at this painting we need to understand that the narrative from the Apartheid government at that stage was that black people are living like animals, they choose to live in squatter camps, they are dirty, they are not worthy of having proper homes.
This painting by George Pemba depicts a completely different narrative – we see a traffic circle and the community playing out in the street. Things to notice are that the street is clean, there are trees and plants planted next to the houses, all the houses are very neat and tidy. This shows that this community cares enough about their environment to make it beautiful. Note that there is no infrastructure: no streetlights; no paved sidewalk. The entire street culminates into a vanishing point which ends with the industry and the factories in the background.
Now this harks to the fact that Apartheid and its regime was economically driven. The Apartheid government needed cheap black labour especially for the mines and to keep the industries running and open. Here, in middle of the day we see a lot of people home and in the streets. This comments on the joblessness in South Africa. People do not have work and have no where to go. To depict the vibrancy of the community and the fact that they are closely knit and jivey, Pemba is using complementary colours – the red and the green, the yellow and the purple, the orange and the blue, this creates a sense of movement in the painting.
What was his artwork, Terror 1991 about?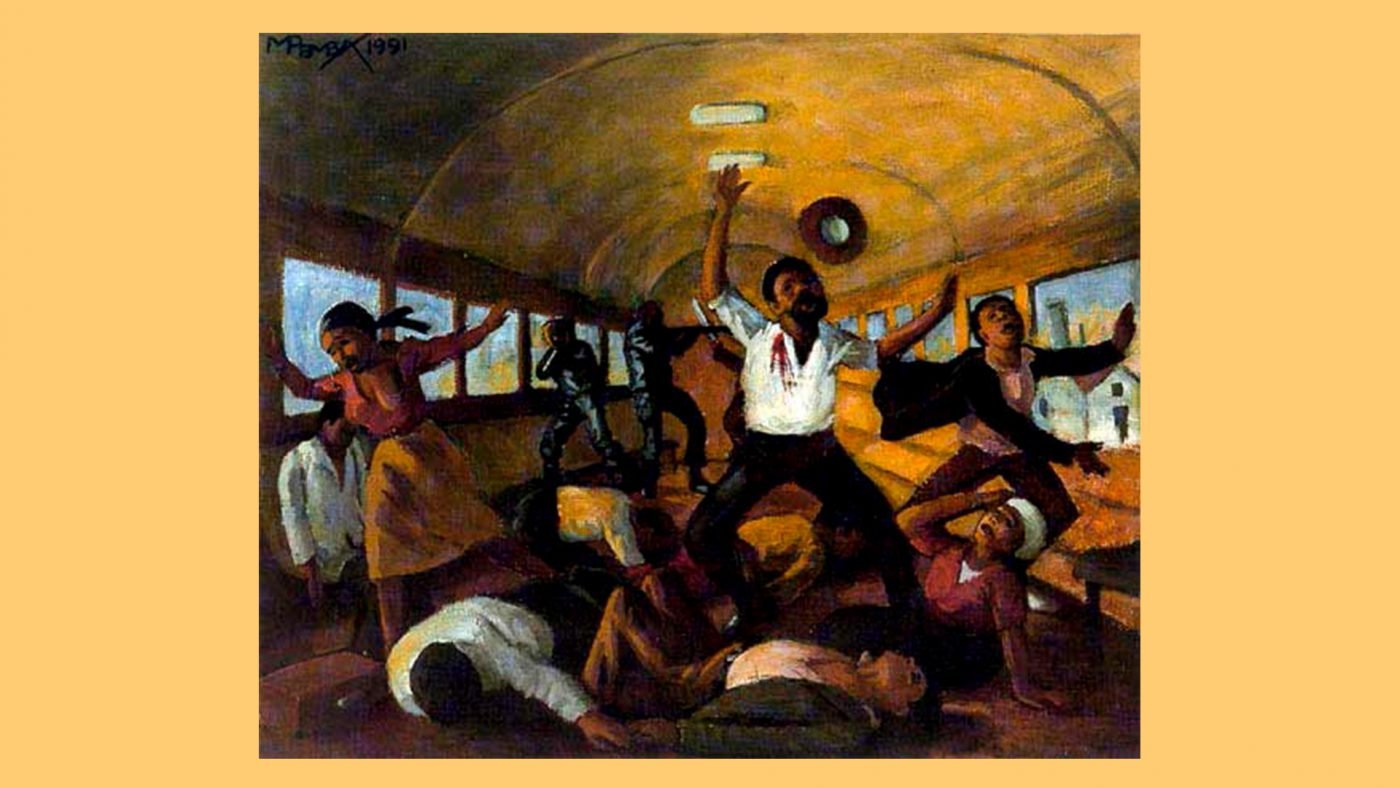 The next painting I would like to discuss is Terror 1991 oil-on-board. This painting is about the brutal consequences of the Apartheid system on the lives of black people. It has chaotic movement with people trapped in a confined space.
We have people running towards the viewer, arms spread out wide in the effort to move away. In the background we see the Apartheid police only as silhouettes starting to shoot people inside a bus or a train. In the foreground we have people lying on the ground, they are either dead or unconscious, there is a suitcase on the floor, and the hat flying off the man's head – all adding to the chaos of the moment. We see quite a prominent C-curve composition in this painting, trapping the people making them feel completely claustrophobic and the only glimmer of freedom we can see is some blue sky shining through the windows.
Note that Pemba didn't paint every little thing with minute detail. In this painting the narrative the story, the chaos of the moment, capturing the emotion is more important than the detail of a button on a shirt. And this is typical from German Expressionism.
Pemba is more concerned with telling the story and not the technical aspects of the painting. His use of colour is quite analogous, meaning he only uses colours that are next to each other on the colour wheel, with a very subdued sombre colour palette, and note that striking contrast of the red blood on the white shirt. This is an important painting because it depicts the brutal violence that occurred in the townships under the Apartheid regime.
List of some of Pemba's artworks
Download our Worksheets
Want to learn more about George Pemba? We offer advanced educational material for all ages