This blog post is apart of a series called Inspired by the Greats.  Our art school will be holding an annual exhibition end of August 2018 with the same title.
Let's not re-invent the wheel as an artist, but rather be inspired by those who came before us. So we have decided to take some of the great artists and study their techniques, skill, methods, use of colour, themes, use of line, visual storytelling and apply it to our own art.
To steal ideas from one person is plagiarism; to steal from many is research – Wilson Mizner.
1 June 1926 – 4 April 2009
When I think of Cecil Skotnes work, I think, high contrast, bold lines combined with thin ones, monochrome colours and an African story captured forever.
What I love about Skotnes is that he was loved as a teacher and an artist throughout his life, freely sharing his knowledge. As an artist and teacher myself, this really resonates with me.
Cecil Skotnes (1 June 1926 – 4 April 2009) was a South African artist known especially for his painted and incised wooden panels, striking woodblock prints, public murals, tapestries and sculpture, and who pioneered a way of producing art that used earth pigments and indigenous wood to construct visual stories about the African past. He was the cultural officer at the influential Polly Street Art Centre and a founding member of the Amadlozi Group. Among his best-known works are The assassination of Shaka (1973) print portfolio and his twenty-four large incised panels installed at the 1820 Settlers monument in Grahamstown.
He was born in East London, the son of missionaries. After finishing school, Cecil worked for some months in a draughtsman's office, leaving this in 1944 to join the South African forces in Europe. He returned to South Africa and completed a BAFA at the University of the Witwatersrand in 1951. Through all these years Cecil Skotnes was as well known as a teacher and mentor as he was as an artist.
Wood
In his early use of the medium of woodcutting soon translated into a focus on the block itself. Instead of cutting the block and then using it as a means to an end – the print – he began to colour and shape the blocks, using them as a surface for paint and dry pigment.
Cecil produced art that used earth pigments and indigenous wood to construct visual stories about the African past.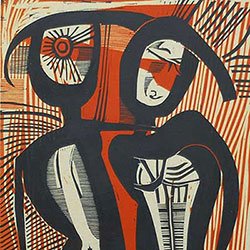 Line Quality
Cecil applies excellent line quality in his work. Creating dramatic contrast by using really thin lines with thick heavy lines. His use of line also adds a lot of texture to the work
Modern adaptations of Skotnes' style
African digital artist Sindiso-Nyoni work reminds me of Cecil Skotnes' work. The bold lines, the jagged edges and monochrome use of colour. View this project here.