South African Art History
Hi, I am artist Lillian Gray, and I have someone you need to meet. South African artist Esther Mahlangu.
Esther Mahlangu is one of South Africa's most globally acclaimed visual artists. Esther became the first artist to transfer the traditional Ndebele designs, that would typically decorate walls, to canvases. This allowed her to tour the world, acting as a Global Ambassador for South Africa and Ndebele art. She has collaborated with numerous respected museums, galleries, artists, curators, and entities during her illustrious career, but before we discuss Esther Mahlangu I need to tell you a bit more about the Ndebele tribe she is from.
Who was the Ndebele Tribe?
The Ndebele tribe lives in southern Africa mainly up in the north of South Africa and also in Zimbabwe. They are known for their exceptional bead-work, and their beautiful geometric patterns. During the 18th century, the Ndebele people of South Africa created their own tradition and style of painting their houses with these beautiful patterns, and today they are well-known for this, however it wasn't always like this.
Let's take a little bit of a look at the evolution of the Ndebele wall paintings. Until the late 1900s the Ndebele were noted warriors and large landowners. They often fought with rival tribes over land, but in the autumn of 1883 they went to war with the neighboring Boers, the Boers were settlers from Europe, that came to farm in South Africa and they needed the land for their crops. The Ndebele tribe suffered a massive loss under the Boers which brought on a harsh life and horrible punishments for the Ndebele. They had to move further north up into South Africa and Zimbabwe to make space for the settlers.
The development of Ndebele Wall Painting
They first settled in mud huts. First, the huts weren't decorated, but slowly a new culture emerged. They started to whitewash the houses with limestone, the women then started to draw various patterns with their fingers onto the walls, and these original designs were based on their beadwork. The colours added to make the paintings were mostly natural pigments consisting of browns, blacks and ochres. Most of the patterns were of a v-shape and a very simple triangle on a large shape of colour. The patterns, earth tones, directions, and size were more important than the present-day vivid and bright colours.
Over time this style has developed and various colours were being added, these symbols and colours were used for communication between the subgroups of the Ndebele people. They developed their own secret language the Boer farmers did not understand the meaning at all and just viewed it as cultural art that wasn't harmful, so it was allowed to continue.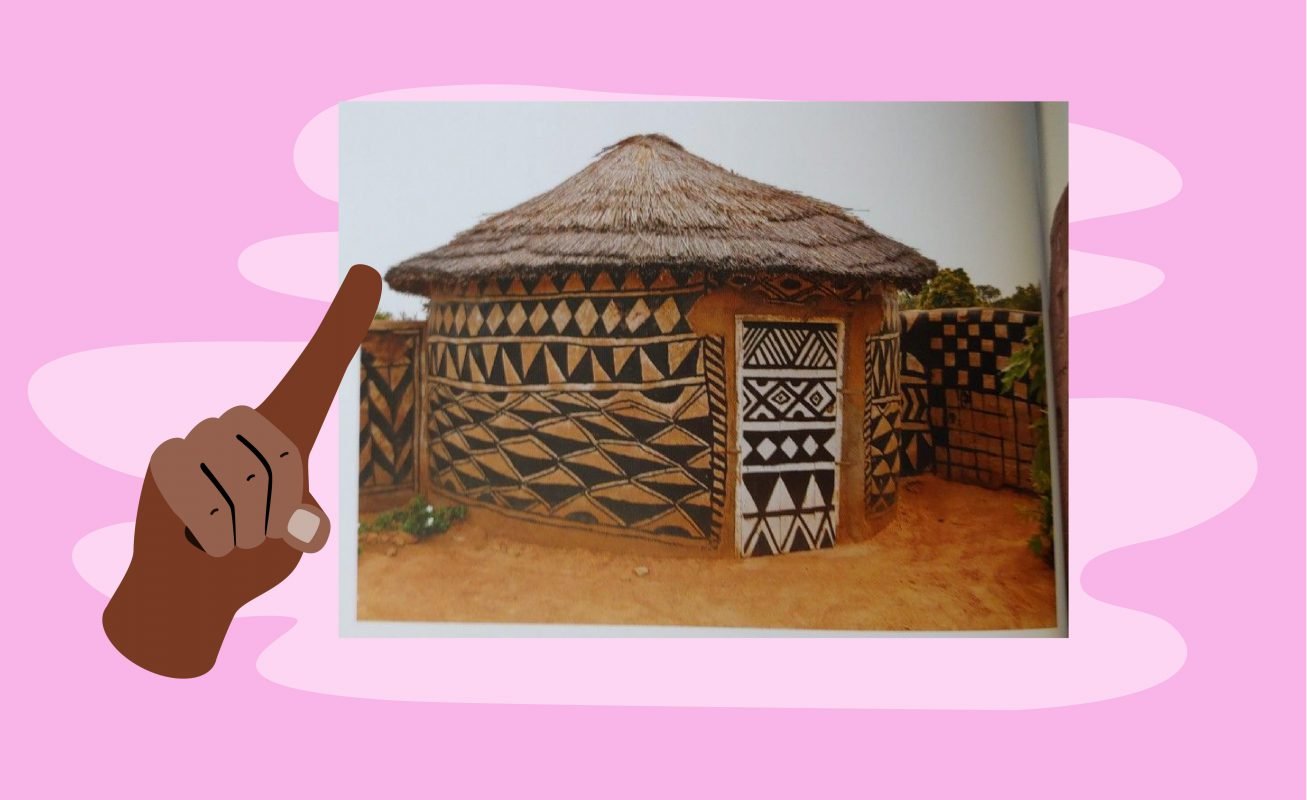 A secret communication method
These wall paintings were done by the women with a secret code to their people, disguised to anyone but the Ndebele. And they started communicating war strategies, personal praise, values, emotions, and announcing marriage on their house wallsSince the Ndebele wall designs are based on the original bead designs, the beads and the colours on the walls share the same meaning. Let's look at some of these meanings. It is important to note that each colour or bead has a positive and a negative meaning depicting the balance of life: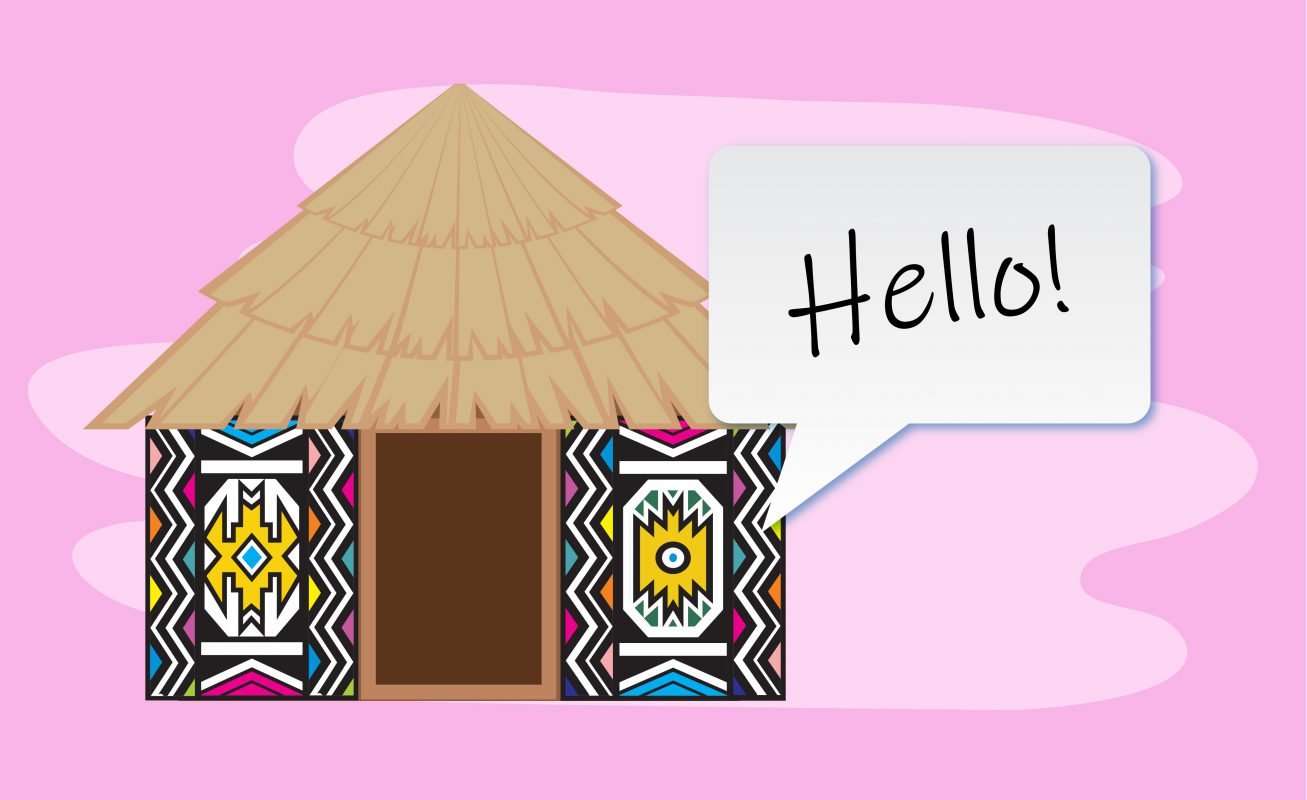 Female Artists
What is really interesting to me about the Ndebele culture, is that women are the artists, and men aren't really allowed to be artists. Compare this to the European tradition. During most of Western art history women weren't quite allowed to be artists – it was frowned upon.
We have so little female artists during the Renaissance and the Impressionism era but in the Ndebele culture the tradition of being an artist is passed on from grandmother to their daughter, to their grandchild. Maybe this is because these wall patterns no longer share hidden war strategies but are now done annually with a very special ritual – the rite of passage for boys.
Rituals and initiations
Between the age of 18 and 20 the male youth of the tribe go to a school of circumcision, the ritual that confirms their passage into adulthood. To celebrate this event the women completely repaint the inside and the outside of their houses with a preparation of cow dung and natural pigments. Brightly coloured acrylic paints are also applied in designs outlined by black.
Although seemingly simple the geometric abstraction that is revealed by these paintings is underscored by the constant repetition and symmetry of such simple shapes that make the whole work quite complex.
Art tools and supplies of the Ndebele
A well painted home shows the female of the household is a good wife and mother. She is responsible for painting the outside gates, the front walls, the side walls, and usually the interior of a house. The woman worked long and hard to finish these walls, and are noticed by the outside community because of their talent and their expression.
The development of modern paint has really changed the Ndebele art form. They no longer use natural pigments to paint but rather use acrylic paint, they also no longer use their fingers but they actually use chicken feathers – sorry Mr. chicken please can I have your butt feather! So, even though they use modern paint they tend to avoid using paintbrushes but rather have the pain staking technique of painting with feathers.
Lately I've also seen Ndebele women use a toothbrush to make the straight black outlines on the wall. The advancement of tools and paint has allowed faster and more complex designs throughout the Ndebele homes. It also kind of stopped the tradition of them annually repainting the entire house inside and outside. Factory manufactured paint lasts much longer than natural pigments, so they tend to paint their houses not as often these days.Now that you know a little bit more about the Ndebele tribe, let's look at artist Esther Mahlangu's life, and how she has made these Ndebele traditions world-famous.
The life of artist Esther Mahlangu
Artist Esther Mahlangu was born in 1935 in Middelburg Mpumalanga, South Africa, and she belongs to the South Ndebele people. Mahlangu began painting at the age of 10 years and was taught the skill of mural painting by her mother and grandmother, following a tradition of her native Ndebele people, for females to paint the exterior of their houses. Esther became the first artist to transfer the traditional Ndebele designs that would typically decorate walls, to canvases.
An European exhibition
She first gained international attention in 1989 at a European art exhibition titled Magicians of the World. It was a group exhibition and Esther exhibited massive canvases depicting Ndebele geometric colourful patterns. Now I want you, other artists, to note that Esther was at the age of 54 before anybody noticed her, and so many of our artists today are so impatient and want to be world-famous overnight.
BMW Art Car
After she exhibited in Europe something awesome happened. In 1991 she was asked by BMW to create an Art Car. The Art Car is painted annually by famous artists across the world names like: Andy Warhol; David Hockney, and Frank Stella. The car was the first African Art Car and was painted with typical motives of the Ndebele tribe. Esther was not only the first non-Western person but also the first female to design one of these Art Cars. This really propelled Esther's international art career forward. The car was later exhibited in the National Museum of Women in the Arts in Washington DC. It was also exhibited at the British Museum in London.
British Airways
In 1997 British Airways asked Esther to decorate the tails of their planes with her designs. It was so vibrant and so cool – come on South African Airways nudge wink wink.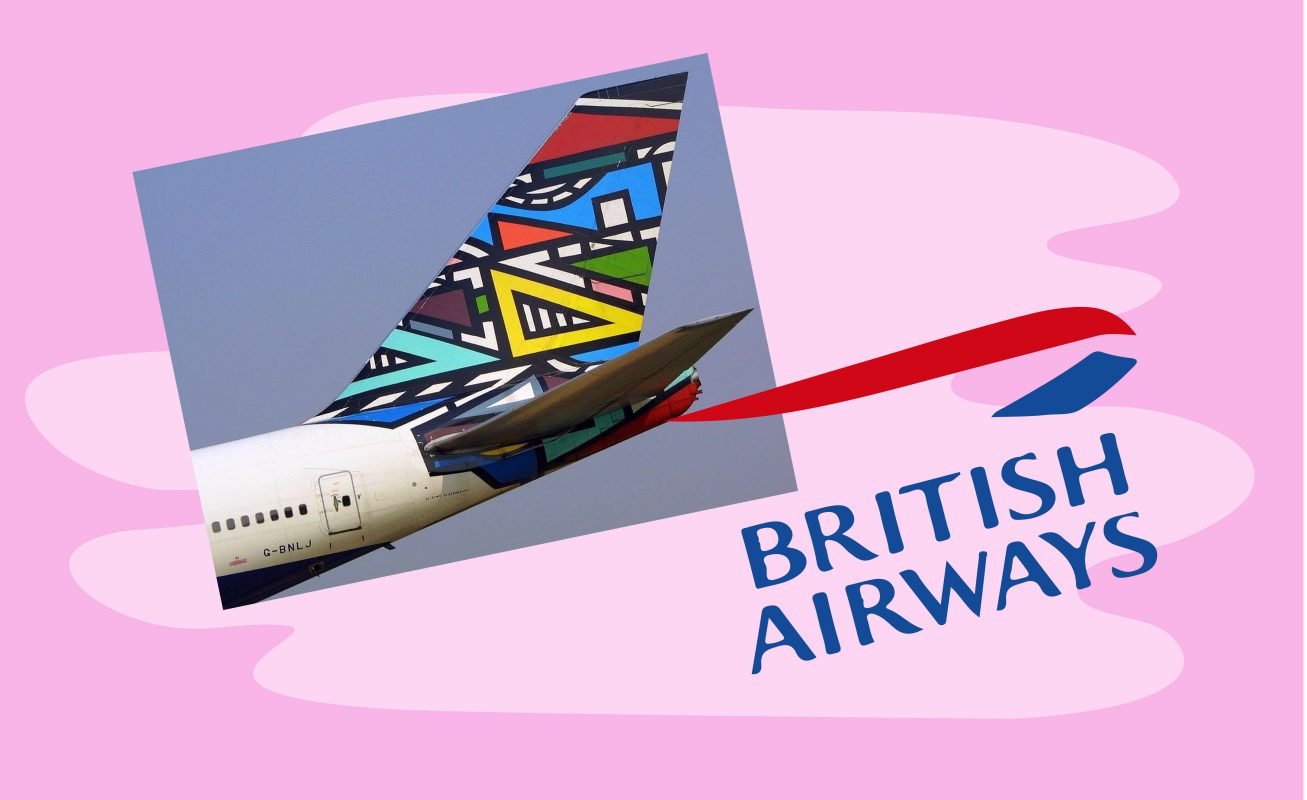 Signing Fiat Cars
The same technique was used by the artist to paint on the new Fiat 500, on the occasion of the exhibition Why Africa.
Belvedere, John Legend and fighting the Aids Pandemic.
Since then stars have been lining up to work with Mahlangu, so it came as no surprise when she teamed up with a Grammy award-winning singer and Belvedere red Ambassador, John Legend, to help fight the fight against AIDS in Africa.
Her Ndebele artwork was displayed on the Belvedere bottles marked with a red logo, 50% of the proceeds from the sales of those bottles went towards fighting HIV/AIDS. In 2001 Mahlangu was presented with a series of six prints of drawings created by the late Nelson Mandela, she embellished his prints to create five paintings and a written motivation in 2004. Mahlangu exhibited the work which was well received by the art community. Mahlangu has gone on to enjoy various international exhibitions and she recently won the Arts and Culture Veteran Award at The Ubuntu Awards. She was nominated in the same category with Johnny Clegg for the award, she said in her speech "I am delighted and appreciate being regarded as a veteran for arts and culture for my country, and representing my province.
Collaborating with South African brands
In 2016 BMW asked Esther Mahlangu to collaborate with them again, and she designed the internal panels for the BMW Individual 7 Series. She has collaborated with many international brands but some of our home brands are also engaging.
In 2018 Freshpak collaborated with her, designing beautiful tea tins honouring this great artist. Tiger brands also collaborated with Esther Mahlangu, they developed a series of products such as rice and bread decorated with her Ndebele patterns.
Becoming Doctor Esther Mahlangu
In 2018 University of Johannesburg decided to honor Mahlangu with an honorary doctorate for her legacy as a cultural entrepreneur and educator. Skillfully negotiating local and global worlds, she received an honorary doctorate.Despite being an internationally loved and recognised artist Esther Mahlangu lives in a village in close contact with her culture. Esther is passionate about conserving and promoting Ndebele culture, and is considered by many as an African national treasure.
Esther Mahlangu's Art School
Mahlangu directs a school, which teaches young girls not only painting, but also the technique of painting designs, and particular compositions of beads. Esther Mahlangu has worked tirelessly exposing and developing her talent, travelling around the world. She is very passionate about sharing her knowledge for the younger generation so that she leaves a legacy that lives on for generations to come.
Why do we celebrate Esther Mahlangu today?
Today Dr. Esther Mahlangu is 83 years old, and she is known for being a cultural Ambassador through her bold artworks that references her Ndebele heritage. The art of Esther Mahlangu highlights the tension between local and global, between the anchor and the detachment. And despite continuing to use the same artistic vocabulary closely tied to her traditions, Mahlangu has applied her designs to various objects including canvas, sculpture, ceramics, automobiles, and even aeroplanes. She has also collaborated with both local and global brands such as BMW, Fiat, Converse, Freshpak, Tiger brands, Belvedere, The British Museum, and Rolls-Royce.
In recent years Mahlangu's decades of work has been lauded and recognized internationally making South Africa proud, and she did all of this by still being connected to her roots and using her traditional tools. So next time you want to moan about your art supplies think of Dr. Esther Mahlangu that achieved world fame with this art kit! And that's it for my story about artist Esther Mahlangu.
Buy or Esther Mahlangu worksheets for most ages
We have excellent art history resources for teachers and students available right here on our website. Shop our various worksheets, class posters, class décor, exam papers here.