Hi, I'm artist Lillian Gray and this series is all about visual diaries.
What is a visual diary?
A visual diary is a tool to develop and create your own artist's voice and style. Sometimes a visual diary is also called a visual journal or a visual portfolio. It all depends on where you are studying visual art.
Visual diaries are used by most creative disciplines. Graphic designers, industrial designers, architects, fashion designers, interior designers all use them to develop their own style. Visual diaries are even utilised by scientists and inventors. Often when teaching art, I'm asked by my students "Lillian, how do I develop my own artistic voice? How do I stop just copying other artists on Pinterest?" The first step that I always recommend to these students is to start a visual diary.
As artist we have various ways of storing and presenting art
As artists, we have various ways of storing and presenting art. We have a sketchbook, an archive, a portfolio, and a visual diary. It is important to understand the difference between these four.
A sketchbook is all about having a mini little art studio with you at all times. So, you can stop, draw and observe wherever you are. It is mainly about continuous practise and developing your skills and craftsmanship as an artist.
An archive is where you store all your sketches and drawings, even those drawings that your mom used to stick on the fridge when she was so proud of you as a toddler. It's great to keep all your sketches so that you can go back in time to see how much you have grown as an artist.  It is extremely rewarding.
Your portfolio only includes the best of the best. I often tell my students to update their portfolios. If they have done the recent pencil sketch that is even better than the previous one, they did. Replace the pencil sketch with the better one and you are up to date greatest work. Your portfolio is your bragging right as an artist. A vital skill to learn as a creator is to present your art. Usually, a portfolio is your showcase of your best work to be hired as a creative. 
A visual diary is about recording your idea creation. Think of it as your artist's mind on paper. It's asking questions like "Who are you?" Your visual diary includes your brainstorming, your artist research, your media exploration, your compositional sketches, your rationale, as well as your references for your artwork.
It is important that you know the difference between a visual diary and a sketchbook. This can be very confusing and often there are similarities between the sketchbook and a visual diary.
Difference between a visual diary and a sketchbook
However, there is a clear difference. The most important difference is that a visual diary is a means to an end. It has a clear goal, looking towards developing a body of work, an exhibition. A sketchbook is usually used for continuous practice. Often, some of the sketches I make in my sketchbook, I rip out of my sketchbook, and I move over to my visual diary to connect with a specific idea or concept that I am developing.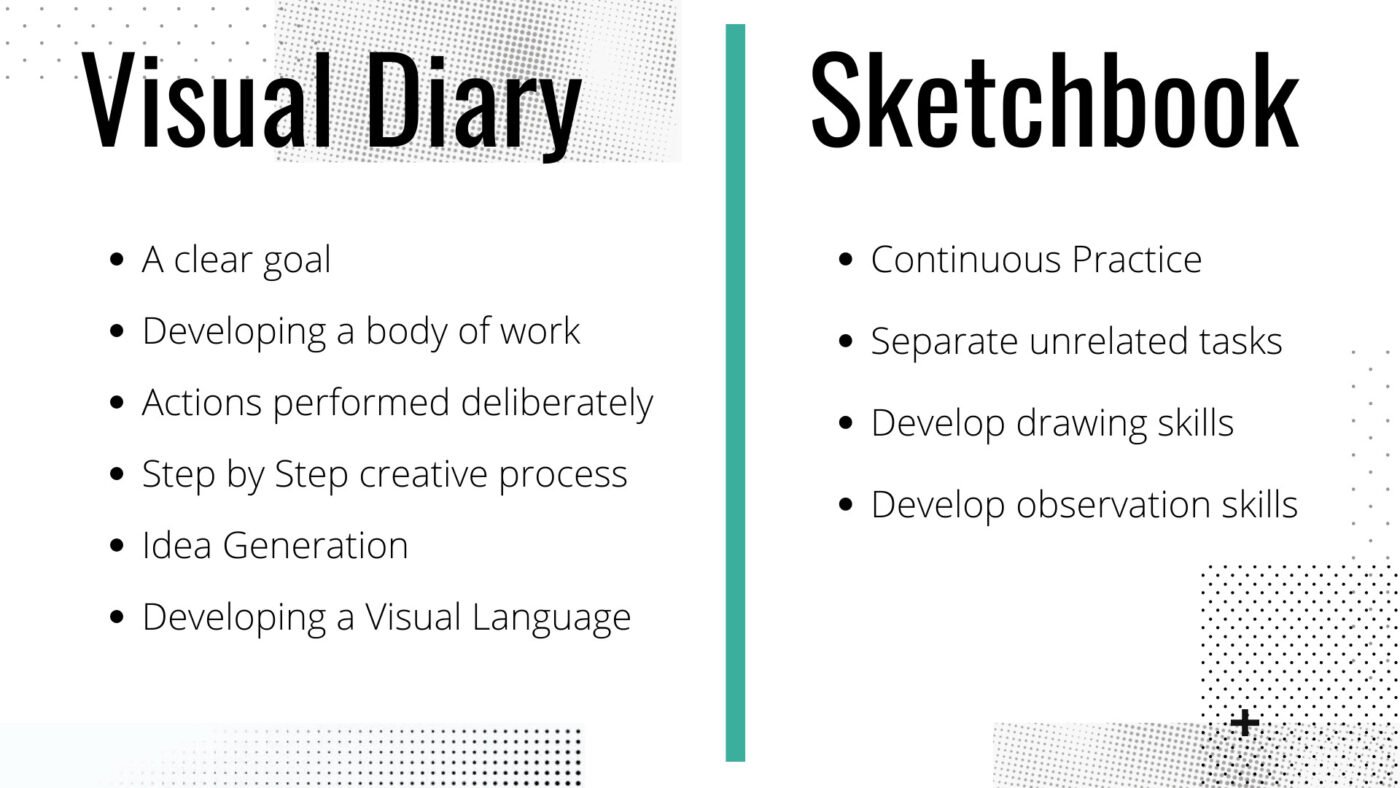 A sketchbook is often unrelated, separate tasks, but a visual diary are actions, performed deliberately, consecutively as part of a coherent, comprehensive project. In your visual diary you will document all the steps of your creative process, leading up to the presentation of your exhibition. It shows that you are fluent in the ability to generate various ideas and possibilities and not just one final idea.
It helps you to review and develop your own visual language. Even though your visual diary has clear intent, remember to be flexible. Your ideas may have changed over time and are different from your initial intention, plans and goals.
What does a visual diary look like?
It usually looks like madness; however, it is organised chaos. It does have structure. In this series I will cover the usual structure required by academic institutions for visual diaries. First let's look at the actual book creatives tend to use to make a visual diary.
The Actual Book
I usually recommend a ring-bound A3 book. Ring-bound because it allows you to glue a lot of things into your book without breaking the spine. A3 because it is easy to carry. I often find that A2 is too big and A4 is too limiting. Depending on where you are studying your creative discipline, they will often give you rules and regulations about what kind of book you need to use for your visual diary.
When deciding on the type of paper for your visual diary, make sure that it is a paper that will hold various mediums, especially watercolours. You don't want to end up with your diary wobbly and warping. Also, use various papers, bind them together into a new book. What also works well is to take an old physical book and reappropriate the pages, painting directly onto the written text. Now, you should be able to explain the difference between a sketchbook and a visual diary and understand the role of the archive and the portfolio. In our next video, I'm going to delft deeper into why we need visual diaries.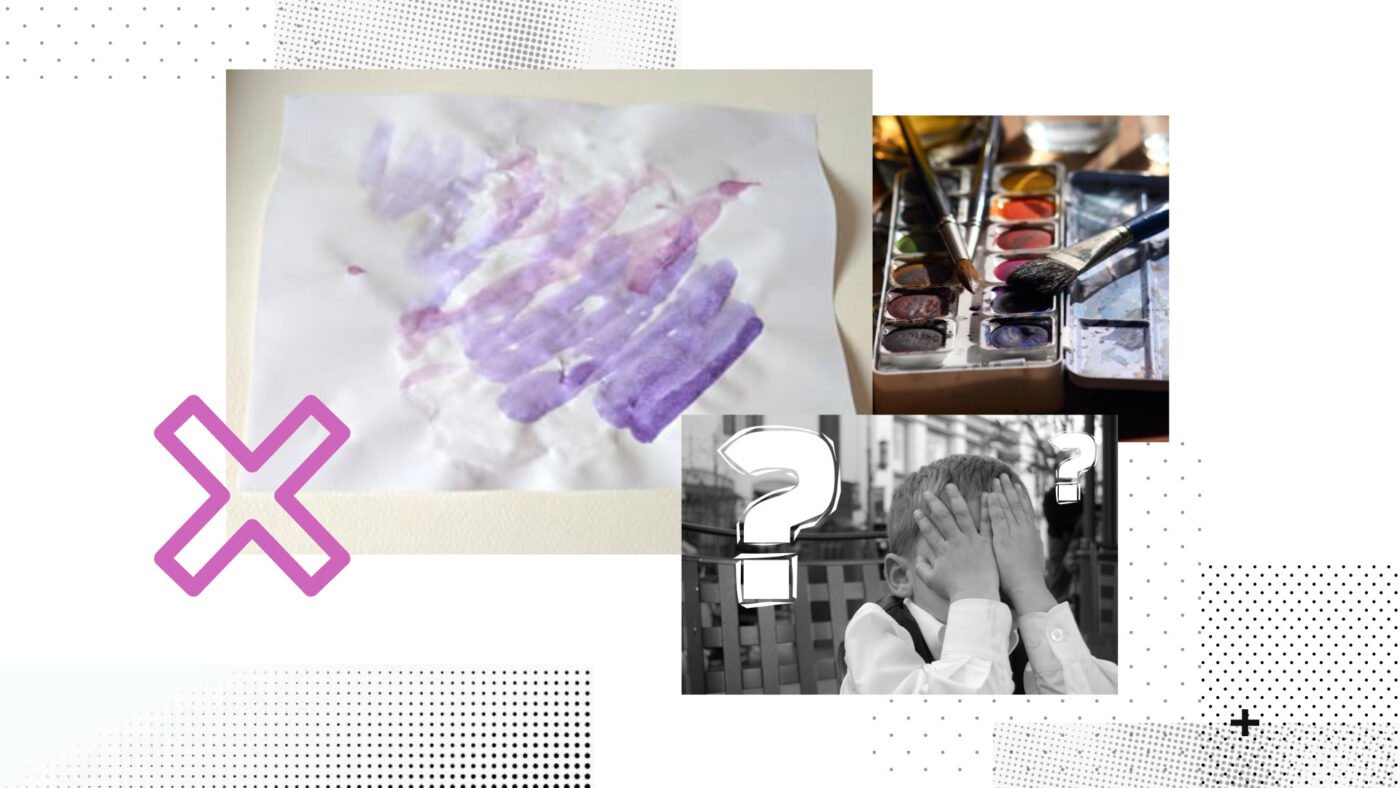 Visit our Youtube channel and check out our drawing courses and great sketchbook challenges. Visit our blog for amazing art history lessons and art projects.
Shop online with us