Art Project
Keith Haring
Acrylic Paint on Canvas
History Lesson: Keith Haring (1958 – 1990) was an American artist whose pop art and graffiti-like work grew out of the New York City street culture of the 1980s. Haring's work grew to iconic popularity from his exuberant spontaneous drawings in New York City
You will need:
A3 Canvas Board
Pencil
Brushes
Acrylic Paint
Water jar with water
Apron
Game Sheet
Dice
Process:
Take a blank page with a pencil to do your planning on. Roll the dice to build your "Keith Haring: character. Draw your character as you roll the dice to discover what it would look like.
Once you have your character, draw it on your canvas panel.
Now paint your character using bright solid colors.
Do your black outlines last with a thin brush
Have fun!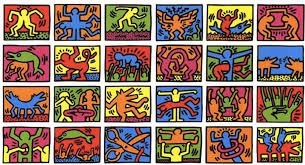 If you enjoyed this exercise and Haring's artworks, check out another amazing street artist Shepard Fairey